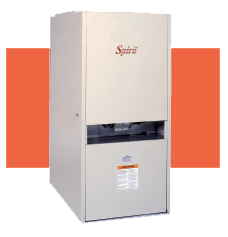 Experience the Comfort of Oil Heat with Spirit Oil Furnaces
Spirit's Versatility and Reliability is Evident in all Three Series
Low-profile Highboy available with optional ECM blower motor for reduced energy consumption
Lowboy Front and Rear Flue
Horizontal/ Counterflow
Limited Lifetime Heat Exchanger Warranty
5-Year Parts Warranty
Experience the Built-in Benefits of Spirit™ Oil Furnaces
Beckett Oil Burners
Beckett oil burners are respected in the industry and the top choice for quality and reliability. All the components utilize the latest technology and are readily available.
Preformed Refractory Chamber
A preformed refractory chamber of ceramic fiber heats up quickly, re-radiates heat back into the fire providing more complete combustion, and cools down quickly after the burner stops.
Heavy-gauge Heat Exchanger with Aluminized Inner Drum
Heavier metal and hand welded wrap-around design provides:
Smoother Airflow for even heat
Quieter Operation
70°F Nominal Temperature Rise for comfort
Blower Motor
Spirit furnaces are equipped with a multi-speed direct drive blower motor. The entire blower assembly can be removed for cleaning. An optional variable speed ECM blower motor is available on the low profile highboy with Beckett NX burner.
Rugged Powder Coated Cabinet
Powder coating ensures a long lasting finish. Fully insulated cabinet to reduce energy loss.
Limited Lifetime Warranty
The heat exchanger is warranted from defects to the original homeowner for the lifetime of the furnace. The burner, blower and controls are covered by a 5 year parts warranty.
ENERGY STAR®
Some Spirit furnaces meet or exceed the ENERGY STAR efficiency guidelines.