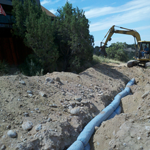 SNAKING
Sometimes sewer pipes just get clogged. Tree roots can grow into the joints of common sewer pipe and grow unitl the line becomes blocked. They don't need to be replaced, just cleaned. Running a cable through your sewer line is popularly known as snaking or rooter service. We can snake out your sewer line using small, medium or large cutter heads. Our sewer cleaning services will clear most root blockages & remove any debris. To have your sewer lines rootered and cleaned, schedule an appointment with us today!

JETTING
When snaking out a sewer will not open the line.We offer hydro jetting high pressure cleaning. High pressure water @ 3000psi, cuts through roots,grease,dirt and debris like a knife, leaving the inside of your sewer lines clear to function properly.Jetters work extremly well for lines used for kitchen & laundry areas. We can also clean downspout drains ,footer drains & storm drains from leaves, sticks,dirt & debris!

CAMERA/VIDEO
There is no need to guess what is causing your drainage problems. Sewer camera inspections are key in determining the source of the stoppage. Included in our sewer camera inspection you will also receive our sewer location services. This means that we will include the use of our location equipment to locate the direction and depth of the sewer line in case that it needs to be repaired. We recommend that you be there with us while we locate and view your sewer line so you can see for yourself the condition of your sewer pipe. If you cannot be t the jobsite, we can record the video for your later veiwing. All our technicians are trained to be able to identify roots, breaks and offsets that are all common causes of stoppages on sewer lines. Identifying these issues will be key to our recommendations for repair or replacement. Our state of the art equipment can also locate water lines, gaslines, electric, phone & cable lines & even underground dog fences! Cant seem to remember where your septic tank lid is? We can find that too!

REPAIR/ REPLACE
If it found necessary to repair or replace a portion or your entire sewer drain line, you can rest assured that the plumbing & heating doctors can swiflty install a new service line for you in a timley fashion. Furthermore we will do everything in our power to disturb as little of your property as possible and keep the inside of your home free of dirt & debris. We can also offer site restoration complete with raking, re seeding & straw to return your lawn even better than new!